Most collectors believe that all vintage Speedmasters should have an Omega logo engraved in the center of their plexiglas.
However, over the years, I realized that some examples were fitted with unsigned plexiglasses, yet absolutely identical to the signed ones : same shape, same thickness, same black ring inside.    It would therefore be surprising if these glasses were not original.
Even more interesting, some serial numbers are really close.
For example, here is the 48.263.27x.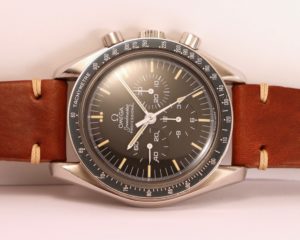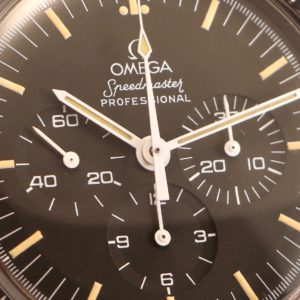 And below, the 48.263.35x.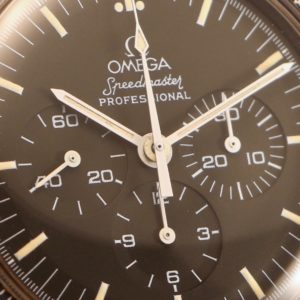 Produced about 80 units apart, they both have an unsigned plexiglas.  Have they been replaced, or is there another explanation ?  Let's not forget that at the time, the various components of a Speedmaster (case, dial, hands, plexiglas…) were manufactured by subcontractors.  The company in charge of producing the plexiglasses may have forgotten to engrave the logo on some series of glasses, which could therefore explain this particularity.
I have listed below the various Speedmasters with an unsigned plexiglas that I have seen in recent years.  These watches all have one thing in common : they were produced between the late 1980's and the mid-1990's.  For the sake of convenience, I have classified them into 5 series.
Series 1
48.238.4xx
48.239.3xx
48.240.2xx
48.240.7xx
Series 2
48.250.6xx
48.254.9xx
48.256.4xx
48.257.5xx
48.258.9xx
Series 3
48.263.2xx
48.263.3xx
48.264.2xx
48.268.9xx
48.269.3xx
Series 4
48.278.1xx
48.278.2xx
48.281.0xx
48.281.3xx
48.286.5xx
Series 5
48.292.2xx
48.295.9xx
If you also own a Speedmaster with an unsigned plexiglas, don't hesitate to contact me in order to update the list.